Link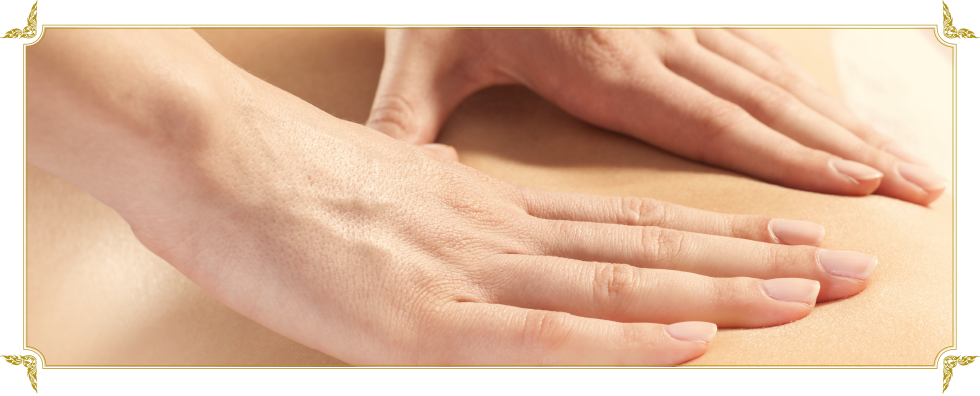 .
Massage treatments


Thai back, neck and shoulder massage
At some time or other we all hold tension in our shoulders. This Thai massage helps
to relieve it more quickly than traditional massage. Focused and rhythmic pressure is
applied to the muscle tissue to increase the blood flow, effectively relaxing the whole area.
You can feel the tension lift almost immediately. While we'll target troublesome areas,
we work to whatever pressure suits you. Whether you opt for a deep tissue massage
or something a bit more gentler, you'll feel the difference from your first treatment.
It's an enjoyable experience, leaving you feeling light, relaxed and energised.
40 mins (Back, neck and shoulder) £35
60 mins (Back, neck and shoulder) £45


Thai oil massage
A full body oil massage and also our most popular. This holistic
massage uses a combination of essential oils and warming Thai balm.
Pressures are applied to energy (Sen) lines to relieve stress, pain and tension in the
muscle and connective tissue. Rolling and stretching movements with palms,
thumbs and elbows are used to give a rhythmic and soothing massage.
60 mins (Full body) £50
90 mins (Full body) £65


Thai deep oil sports massage
This deep tissue treatment helps to release tension and restore balance. Thai Sports Massage
uses oil and warming Thai balm for more focused deep tissue manipulation of muscles,
tendons and ligaments. It's an effective remedy that treats specific areas before and
after exercise, as well as speeding up recovery of sports related injuries. As a regular
treatment, it's not only ideal for athletes' training programmes, but also highly
beneficial for those who work out casually.
60 mins (Full body) £50
90 mins (Full body) £65


Thai aromatherapy massage
A lighter style of holistic full body massage, designed to soothe the emotions,
condition the skin and loosen tight or tired muscles. A combination of essential oils are
used which deeply hydrate and purify the skin. Their aromas create a sense
of harmony, relaxation and renewed energy. Aromatherapy massage is normally
a full body treatment, but can be localised for particular aches and pains.
60 mins (Full body) £50
90 mins (Full body) £65


Gift vouchers
If you would like to give someone a special treat, why not consider a massage gift voucher.
Available for 40 min, 60 min and 90 min massages
 Customer feedback
"By far the most dedicated therapist towards her clients. Balms are soothing and attention to detail
is spot on. After 2 operations on my knee Em has managed to make it feel as though I never ruptured
my anterior cruciate ligament. Highly recommend this professional therapist." – Kevin Randall